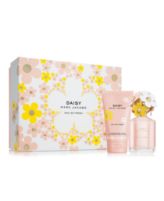 The Launch party for "Daisy" will be on Saturday, April 28th from 1:00-3:00 at the Fort Union Deseret Book Store in Salt Lake City, Utah. Julie Wright will be there signing copies of "Olivia" as well and we'll have cookies--Rolo Cookies, to be exact. The recipe was featured in Annette Lyon's cookbook "Chocolate Never Faileth" and is also included at the back of "Daisy". Soooo, we want to get the word out and a few weeks ago I just happen to be at the mall and saw a new Marc Jacob's fragrance called "Daisy." I call that fate!
I purchased a gift box set of the fragrance, which includes a 2.5 oz. spray and 5 oz. lotion. You might have to take my word for the fact that it smells awesome, a little floral, but light and with just a hint of musk to it. And it's so cute!
Here's how you enter the drawing--multiple entries encouraged:
*Post about "Daisy" or "Olivia" on your blog (If you already have, just tell us so)
*Tweet or Facebook or blog about the opening night (If you review a book on your blog AND post about the opening night--that's two entries)
*Leave a review for "Daisy" or "Olivia" anywhere--Goodreads, Amazon.com, Deseretbook.com, Library Thing, Shelfari. (You can use the same review on multiple review sites, we don't mind)
*Recommend "Daisy" or "Olivia" to your friends on Goodreads or another book review site that allows recommendations.
Once you've put the word out in any of these ways, come back here and leave a comment that includes your total entries and make sure we can contact you through the information in your profile. You can also enter in person at the Launch on the 28th. The winner will be announced on Monday, April 30th and will be contacted for a mailing address so that the gift box can be shipped to you.
Thanks so much for your help spreading the word, I'm excited to see what people think of the second installment in the series!